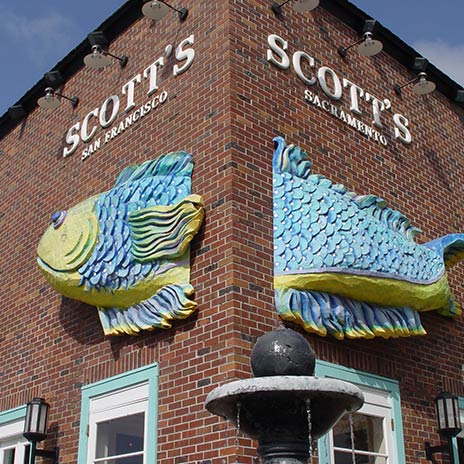 We thought we were so cool (in between bouts of extreme panic)
October 31 is the 26th anniversary of our first Scott's Seafood Grill and Bar in Loehmann's Plaza, Sacramento. We thought we were so cool, in between bouts of extreme panic.
I had risen from Assistant Manager to Director of Operations at Scott's in San Francisco, so I thought I knew the business inside and out. But owning and managing a restaurant turned out to be two entirely different things. Just putting together the financing was eye opening.
My partner had a little money, I had a little money, but we needed a lot more. Where was it going to come from?
We must have talked to twenty banks, but none of them wanted to talk to us, until we ran into one little tiny bank that had an approachable loan officer willing to give us an SBA loan. One piece of the puzzle fell into place.
The last piece was discovered in equipment leasing, not the cheapest solution, but we were getting desperate by that time. A broker who did some work for my boss and who knew my work suggested that we should go out for a drink to discuss a deal. Naïve me! Then proceeded a long pub crawl where it became more and more difficult to remain vertical, drawing to a very overdue end when the bartender refused my broker friend another drink. Embarrassment on all sides and the broker disappeared. I thought that was the end of that, as we only discussed business for a few minutes during our long afternoon.
Lo and behold I got a call the next day, that he had approved the lease and had very much enjoyed our outing. He added that he made his mind up when he had told me what the monthly payment would be and I was not shocked at the amount. Little did he know that I did not react because I was too hammered to react.
Then the loan officer at our SBA bank resigned and we were left with his very unhappy Vice President who did not want to give us a loan at all. We finally funded that loan the day after we opened the restaurant after jumping through so many hoops we could have joined the circus.
It did all come together finally and we opened on Hallowe'en 1991. Then the fun really began!
Continued in part deux…