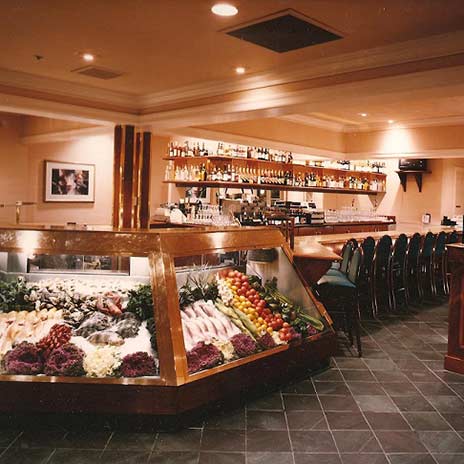 How many ways can you screw it up?
Part deux in a series marking Scott's 26th anniversary.
The location was a restaurant in its previous life, so we used as much of everything that was left as we could, including a dinosaur of a range which didn't even have a permit sticker. It worked, so why not? A NSF permit sticker magically appeared one day before final inspection. Our point of sales system (ordering system) was so old we had to cannibalize old parts to keep it running, but so what? It did what we needed it to do. We made do, and we spent all of the money on what the guest could see.
I had visited Pike's Market in Seattle, and loved the display of fresh salmon. Other Scott's had fresh fish displays so we commissioned a sheet metal guy to build one made of brass to be the main point of focus at the entry to the restaurant, which cost us a bloody fortune, but we needed to make a statement and this was it. What a waste of time! It was cumbersome, expensive and sucked up labor setting it up in the morning, breaking it down at night, polishing it every day. We later scrapped it and moved the bar to the front. Duh! Masterminds at work!
On our search for an Executive Chef, we had interviewed several candidates, but were impressed by one who had worked with Scott's leading Executive Chef. We asked our star Chef for a reference who told us that if we liked his work, we will love this candidate. Hired!!!
Interview days for hiring front of the house staff consisted of us all sitting at folding tables on the sorta covered patio, since we were not yet allowed in the building, interviewing all these servers, hostesses, bussers and bartenders. That was all good until it started to rain. Needless to say, establishing a relationship with a candidate when you are both cold, wet and shivering is just a little difficult. The kitchen made some hot chocolate which was watery. That should have been our first clue. But somehow, we put together a fabulous professional staff and training commenced with better hot chocolate and spotty weather on the patio.
We opened on October 31, 1991 for dinner only and we did well. The first few days were of course a little rough, but service was excellent. The comments about the food were less encouraging. We began to notice that when our Executive Chef was on the cooking line, the food was good, but when he delegated the line to his cooks, things came to a screeching halt. And of course there were other things that he needed to do, like ordering, prep, accounting, costing, etc. Inconsistencies in recipes, execution and quality became more and more apparent. We worked with our team to resolve these issues on a daily basis and we seemed to be doing better.
We made it through the first blush of business, the honeymoon period, hoping that we had done enough to keep the business afloat. Cash flow seemed OK, the contractors got paid and we had enough to pay the bills. Our growing concern became the consistency of our food, and despite our best efforts, sales began to slide and reviews of the restaurant were mediocre. Something had to be done. But what?