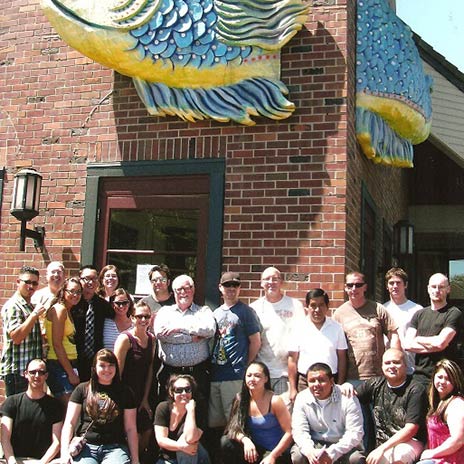 Mediocrity, thy name is Scott's
(October 31st was the 26th anniversary of our first Scott's Seafood Grill and Bar in Loehmann's Plaza, Sacramento. Part three in a series looking back…)

As rookie owners, we were not sure on our next move. It is now crystal clear what we should have done months before, but we liked the Chef. He was a real straight shooter and a good person, so we had long chats about what we thought could fix everything in the kitchen. How many excuses we created to give him time to fix the mediocre, inconsistent food? We lost count.
It came to a head when my old boss, the owner of the name Scott's, the man we had to please to keep the name, came to visit. He loved the place, the ambience, the staff, the service, but of course the food was iffy.

It then became crystal clear to me. A call was made to my old Chef in San Francisco, who owned a house in Stockton. My timing was perfect. Her tenants had just given notice, she wasn't happy where she was, so she agreed to come work with us in Sacramento.
She was our lifesaver. As soon as she walked in the door, it was clear who was boss. She blew out the dead weight and hired a bunch of great cooks and the problems were solved. Recipes were followed, the line ran like a top and the kitchen was again a Scott's kitchen.
But the damage had been done! Sales were bad, costs followed sales. How were we going to revitalize our restaurant? How were we going to show Sacramento diners that we were a good restaurant?
During those terrible days, cash flow was discussed on Tuesday. Who was getting paid this week and who was not? Who would call the vendors? Would we be able to pay rent? There was a conversation with our landlord about late rent that still makes me cringe.
Counting sheep was not an option when trying to sleep, as the sheep became bills that we couldn't pay. What was I thinking, why did I put everything on the line? I had personal credit card debt up the yinyang because I couldn't pay my bills at home either. In addition to my management shifts I worked as a server to help make ends meet.
So we became a 2 for 1 restaurant. Between the coupons and the Entertainment Card (also 2 for 1) we were able to pay the bills. It left very little left to get caught up but we got to stay open. Eventually we were able to reduce and remove the coupons and went on to win awards for Best Seafood Restaurant every year and actually turn a profit.
We opened Folsom in 1999, which did well right from the start, and Scott's on The River in 2008. We eventually closed Loehmann's Plaza Scott's in 2012 after a healthy 21 year run.
And you say you want to open a restaurant? Are you crazy?