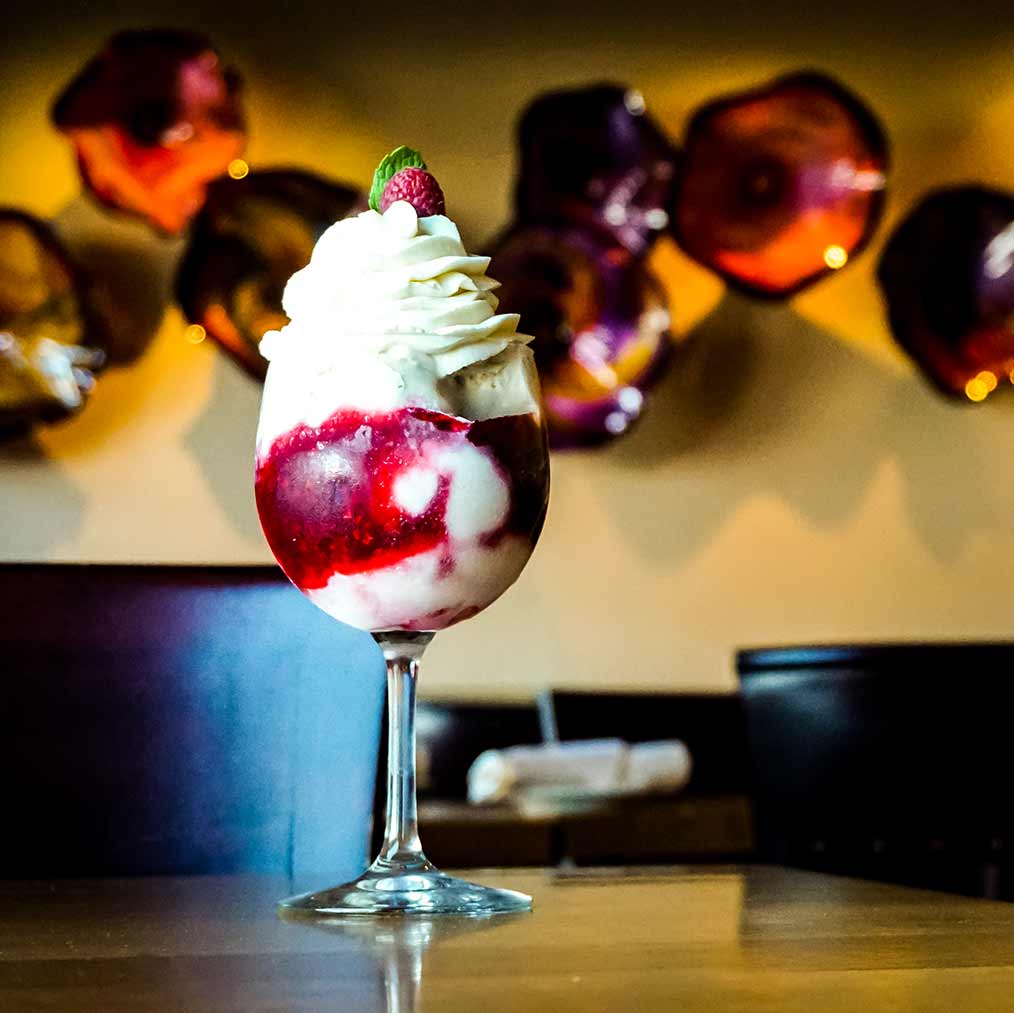 The Raspberry Jack
What a weird name for a dessert. It's not a pudding, it's kinda like a sundae, could be a parfait, but it is its own thing and so demands its own category.
What is it? It's a delicious layering of Double Rainbow Vanilla Ice Cream (no other will work) and sweetened raspberries spiked with triple sec and smothered in whipped cream. Simple, right? It has been on the menu since the original Scott's Seafood on Lombard and Scott in San Francisco in 1976. People still love it! It's a great sharing dessert after a fabulous dinner at Scott's on the River.
How did it get its name you say? I'm glad you asked. Well, in 1976, when Malcom Stroud, the Englishman who founded Scott's was putting together the menu, he wanted an ice cream dessert that would be simple to produce but would satisfy the sweet tooth of his guests.
He liked the idea of fresh raspberries with ice cream, but fresh raspberries were not always available, and anyway, the flavors together were dull and unexciting. He thought back to his childhood in summertime England where the choices of ice cream flavors were either vanilla or vanilla. The only thing that could spice it up was a shot of raspberry syrup, so he ran with that idea and the Raspberry Jack was born, but what to call it?
A Raspberry Sundae? A Raspberry Parfait? Neither described the unique flavors that comprised the new creation. Now, remember that England has a long naval history, so when Malcolm was driving up Van Ness in San Francisco, he had to pass the Jack Tar Hotel, long gone now. A Jack Tar is a name for an English Sailor, which struck a chord with Malcolm and he exclaimed "Jack! I'll call it a Raspberry Jack!"
This story might give you an insight into the wild and wooly ways of the creative mind of restaurateurs, whose thought processes seldom move in a straight line. The original Scott's on Lombard was one of the great successes of the San Francisco dining scene, named one of the top ten grossing restaurants per seat in the United States. Scott's on the River is proud to continue Malcolm's vision into the 21st century, preserving some of the traditional seafood preparations from the original location, while offering modern, contemporary dishes that appeal to today's diners.
Alan RP Irvine
President