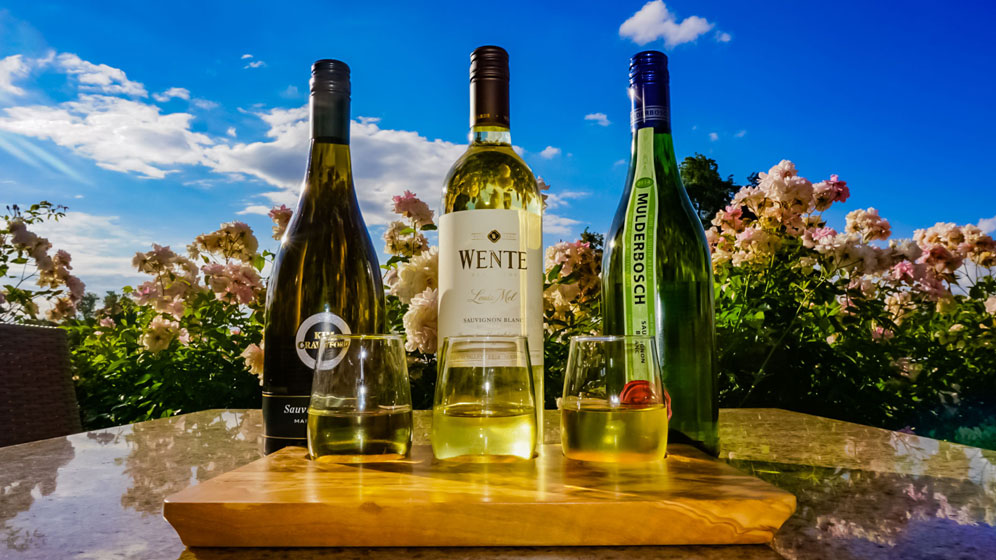 Sauvignon Blancs
"Harsh, acidic, tastes like grass, like sucking on a grapefruit!"
Are just a few of the comments I hear about Sauvignon Blancs. They certainly can be, but properly
chosen, and very much depending on where they come from and who made them, they are one of the
most food friendly, versatile and delicious wines in the world, not to mention a much better value than a
similarly priced Chardonnay. The grape was originally from the Bordeaux region in South West France,
but now everybody everywhere grows the stuff, very successfully too.
California has a vast array of styles, from restrained and herbal to tropical and opulent. Try them all!
You'll be at it for a long time, and then again that doesn't seem too painful a pursuit.
When the first Sauvignon Blancs came out nobody wanted them. (We were all drinking Almaden
Mountain Chablis by the half-gallon back then.) Then a little-known genius by the name of Robert
Mondavi came out with a name which struck people's fancy, had cachet. "Mondavi Fume Blanc".
Sauvignon Blanc had arrived, and in style.
I remember when New Zealand Sauvignon Blancs first hit the American market, all the talk was of the
gooseberry flavors. Really? Gooseberry? How many of us have actually tasted a gooseberry? Is this the
best way to relate to the folks you want to buy your wine? But snobbery is alive and well in the wine
industry, and if you sound like you know more than your buyer, you're one step ahead. And that's a load
of guff!
It's our job not to educate our guests, but to offer something they may not have tried before, and if it
makes the experience special, that's a good thing.
Food that goes with Sauvignon Blancs? A lot! The reason? The acid cleans your palate after each bite,
refreshing the taste buds for the next delicious morsel.
What do I drink them with? Oysters on the Half Shell, Petrale Sole, Cheese Plates, Barramundi, Pasta.
There are a few provisos. The flavors of the wine should not be too singularly focused, as that flavor may
overwhelm the palate and all you get is "gooseberry" in your mouth. Balance is the thing.
Depending on the style, they can be a light wine before dinner or on a picnic, with an appetizer or with
seafood. We carry Sterling (Napa), Wente (Livermore Valley), Joel Gott (California), Twomey (Napa),
Mulderbosch from South Africa and the best-selling Kim Crawford from New Zealand.
Not a bad one among them. I know, I've tasted them all. I have a tough job!
The patio is now open, so start your meal with a half-dozen cold oysters on the half shell, a wonderful
glass of Sauvignon Blanc and enjoy a warm evening on the patio with the delta breezes kicking up just
when you need it.
We will also be offering flights of three Sauvignon Blancs for the month of June, so get a head start on
discovering these great wines.
Cheers!
Alan RP Irvine
President