Chef's Recipe Series
Try these recipes straight from Scott's Kitchen at home!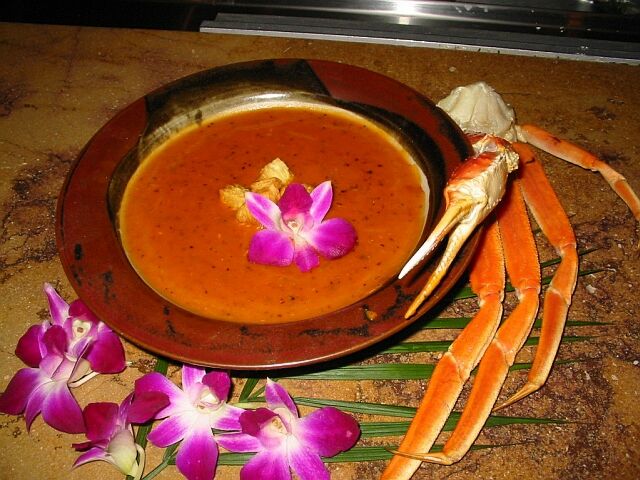 Crab Bisque
Yield: 1 gallon (serves 8-10 people)
Ingredients:
¼ Pound Clam Base
1 Gallon Water
½ Gallon Manufacturing Cream
1 Each Yellow Onions, 1/2 Inch Dice
1 TBLSPN Fresh Garlic, Minced
1/2 Pound Unsalted Butter
1 Pound All Purpose Flour
1 Batch Marinara (Recipe Follows)
1 Cup Brandy
1 Cup Dry Sherry
2 Each Bay Leaf
½ TBLSPN Dried Thyme
1 TBLSPN Dried Basil
1 teaspoon Cayenne
1 TBLSPN Course Ground Black Pepper
1 ½ Cup Beef Base
1 ½ Cup Clam Base
1 Pound Rock Crab Meat (Pick Through & Remove All Shell Fragments)
Method:
Prepare Steps Two Through Five Simultaneously So That Each Step Will Be Ready As Needed.
Dilute The Clam Base In The Water To Make A Stock In A Large Stock Pot. Add Cream and Bring Stock To A Boil.
Sauté The Onions And Garlic In Butter Until Soft, Add Flour And Cook Until Nutty Flavored, You Are Making A Blonde Roux That Should Be Fairly Dry. Gradually Add To Stock And Bur Mix Until Smooth.
Make Marinara According To Recipe, And Add To Thickened Stock.
In A Saucepan, Burn Off Alcohol From Brandy And Sherry. Add To Stock.
Add Herbs, Spices And Bases To Stock. Simmer For 30 Minutes, Stirring Frequently To Prevent Scorching. Check For Color & Flavor. Simmer Longer If Color Is Light And Flavor Is Too "Tomatoey"
Then Add Crab, Pulse With The Mixer A Couple Of Times To Break Down Larger Clumps Of Crab, But Not Too Much. Crab Pieces Should Be Evident. Remove From Heat.
Cool Properly!
Marinara Recipe
Ingredients:
1 Each 28 Oz. Can Tomato Paste
2 Cups Cabernet
1 ½ Cups Water
1 TBLSPN Garlic, Minced
½ TBLSPN Dried Italian Seasoning
½ TBLSPN Kosher Salt
½ TBLSPN Course Ground Black Pepper
1 Each Bay Leaf
Combine All Ingredients In A Heavy Sauce Pan. Bring To A Boil, Reduce To A Simmer, And Cook Over Medium Heat For Forty-Five Minutes, Stirring Frequently.
Puff Pastry Garnish For Bisque
Dice puff pastry in ½"x ½" squares, spread out onto a parchment lined sheet pan. Bake at 350° until golden brown.