SCOTT'S REOPENING

We are thrilled! The day has finally arrived! Scott's on the River will reopen on Tuesday May 26 at 4pm for dinner only with a limited menu. Lunch and brunch will follow soon. Our prime directive is our staff's safety, and that of our guests. We have disinfected the whole restaurant from top to bottom, installed new safety protocols, from social distancing to sanitizing all tables and chairs between seatings, hand sanitizer stations, throw away menus, increased sanitation, masks and gloves for our staff for the foreseeable future. The new normal is upon us and we are embracing it!

So a couple of things to remember during the pandemic. There will be no valet service, self-parking only, yes you can use the lot at our front door. We recommend drop off in front of the hotel then making the driver walk back, as there will be no shuttle. We will ask for your patience in arrival and seating procedures, in order to keep everyone safe.

By next week we will have a take out menu that can be ordered online, paid for online and ready to pick up at the appointed hour curbside.

We highly recommend reservations. There will be a smaller than normal lounge space for waiting. There will be no bar seating for now.

Dine-in, how exciting!

-Alan RP Irvine
Owner, Scott's Seafood on the River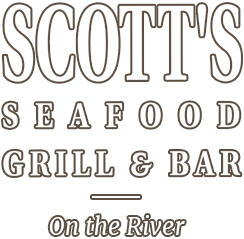 Scott's Seafood on the Sacramento River is the perfect restaurant for any occasion.
"Delicious food and superb service in a great setting. Will visit here again!"
Sacramento's Premier Wedding Venue
We'll partner with you to create a unique wedding experience in our idyllic riverfront setting.
Scott's Blog
"We are open for dinner only 4-8pm every day until we can staff up for lunch and brunch. There is a new on-line take out menu. Happy Hour will be back soon!"