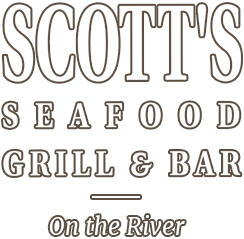 Scott's Seafood on the Sacramento River is the perfect restaurant for any occasion.
"Delicious food and superb service in a great setting. Will visit here again!"
Christmas Menu
Merry Christmas
Executive Chef: Brandon Meadows
Chef de Cuisine: Scott Longman
Sous Chef: Kris Hika
Harris Ranch Christmas Prime Rib Roast 42
Herb Crusted Prime Rib / Loaded Baked Potato Croquettes /
Rosemary Au Jus Roasted Brussel Sprouts with Bacon Cider Jam /
Creamy Horseradish
SOUPS
Boston Clam Chowder or Spicy Crab Bisque 9 / 7
Soup of the Day 9 / 7
HOT APPETIZERS
Crispy Wild Prawns togarashi dipping sauce / grilled pineapple 16
Fried Calamari chili-citrus butter / house made cocktail sauce 16
Dungeness Crab Cakes crispy leeks / spicy remoulade 18
Seared Sea Scallops blood orange gastrique / beet hummus /  crispy noodle / bacon dust 24 *gf
CHILLED APPETIZERS
Wild Prawn Cocktail 16 *gf
Dungeness Crab Cocktail 19 *gf
 SALADS
Add rocky grilled chicken 8, thai beef 8, crispy calamari 8,  grilled prawns 10, sesame-pepper crusted ahi 12 1
Wedge Salad blue cheese dressing / baby iceberg / bacon /  tomatoes / red onion / radish 10 *gf
Field Greens whole grain mustard vinaigrette / granny smith apples /  candied pistachios / smoked provolone 10 *gf
Scott's Caesar romaine hearts / house-made dressing /  garlic croutons / asiago cheese 10
Baby Kale Salad shredded radicchio and curly kale / pomegranate vinaigrette /
fall spiced pumpkin seeds / dried cranberries / ewenique sheep gouda 10 *gf
Pacific Rim Salad makrut lime vinaigrette / avocado-mango relish 14
Artisan Dungeness Crab Salad baby iceberg / beets / avocado /  hard boiled cage free egg / radish / chives / watercress /  citronette & traditional louis dressing 24 *gf
Bay Shrimp Salad baby iceberg / beets / avocado /
hard boiled cage free egg / radish / chives / watercress /  citronette & traditional louis dressing 18 *gf
SWIMMERS
Macadamia Nut Crusted Seabass brown butter /
citrus wild rice pilaf / steamed vegetables 36
Jerk Seasoned Pacific Swordfish
and Coconut Prawns
grilled avocado / mango chutney / plantain sauce 32
Cajun Grilled Sterling Salmon sweet potato puree /  mushroom farro / charred broccolini / fall chutney 29
Ahi Two Ways sesame seared & soy marinated poke /  sushi rice / spun cucumber / ponzu glaze / wasabi aioli / tobiko 35 1
Grilled Petrale Sole Dore lemon-garlic butter /
steamed vegetables / citrus wild rice pilaf 27
 A LITTLE OF BOTH
Filet Mignon and Grilled Prawns bogle pinot noir butter /  roasted garlic mashed potatoes 39 2
Filet Mignon and Scallops roasted garlic mashed potatoes /  bogle pinot noir butter 45 2
Garlic Butter Roasted Atlantic Lobster Tail garlic mashed potatoes /  drawn butter 46 *gf add a 6 oz filet mignon 14
SHELLFISH AND GRAINS
Add rocky all natural chicken 8, bay scallops 9, grilled prawns 10
Parmesan Gnocchi caramelized fennel butternut squash puree /  rainbow chard / pepitas / cranberry gastrique 20
Sautéed Tricolor Quinoa roasted acorn squash / caramelized onions /  butternut squash / brussels sprouts / dried cranberries /
pomegranate molasses 21 *gf
Cajun Garlic Shrimp and Grits blackened wild prawns/ spicy garlic  butter sauce / tasso ham /scallion cheddar grits 26 *gf
Blue Prawn Scampi squid ink linguine / bishop's hat chile /  lemon-garlic butter / grape tomatoes / sourdough toast 28
Bay Scallop & Prawn Risotto exotic mushrooms / baby arugula /  grape tomatoes / lemon olive oil 25 *gf
Private party facilities available. Ask for a tour or go to www.scottsseafood.net/theriver
On Parties of 8 or more we charge an automatic 20% service charge.
1) Served raw or undercooked or contain raw or undercooked ingredients.
2) Consuming raw or undercooked meats, poultry, seafood, shellfish or eggs may increase your risk of food-borne illness
Please inform your server of any food allergies
*gf indicates menu item that can be adjusted to accommodate gluten free/Celiac needs
Sacramento's Premier Wedding Venue
We'll partner with you to create a unique wedding experience in our idyllic riverfront setting.
Scott's Blog
We're drinking whisk(e)y on Monday November 4 with Chris, whose extensive knowledge of spirits will become immediately apparent.